Games coming out in 2022 and 2023 that you should play
Ever since William Higinbotham (Hig-ni-ba-tham) created pong, the first commercially successful video game, video games have become a major part of our everyday lives. Some people play games like Animal Crossing or Stardew Valley to relax and relax from stress. Some people play games like Fnaf or Resident evil to get their blood pumping. Either way, video games are a thing almost anyone can enjoy. So here are some new video games that you should play.
1. Pokemon Scarlet/Violet (Game price 59.99)
The New Pokemon Starters for Scarlet and Violet. The starters' names are Sprigatito, Fuecoco, and  Quaxly.
Photo by iMore.com
What the Game is about
According to Nintendogames.com, Pokémon Scarlet and Violet are ready to take us into the ninth generation of Pokémon when they launch on the Nintendo Switch.
Coming relatively soon after the release of Pokemon Legends Arceus in January, Pokémon Scarlet and Violet are set to push the series forward, building effectively on the open-area advancements of Pokemon Sword and Shield and Pokémon Legends Arceus to be the series' first fully open-world titles.
The games Pokémon Scarlet and Violet, on their official website, it says about the new releases, the series "takes a new evolutionary step, allowing you to explore freely in a richly expressed open world. Various towns blend seamlessly into the wilderness with no borders. You'll be able to see the Pokémon of this region in the skies, in the seas, in the forests, on the streets—all over! You'll be able to experience the true joy of the Pokémon series—battling against wild Pokémon in order to catch them—now in an open-world game." So that means the games will be very similar to pokemon legends Arceus with in my opinion is a very good thing since
According to nintendogames.com, While we don't know the exact release date of Pokémon Scarlet and Violet just yet, we do at least have a vague release window. As part of its official announcement, The Pokémon Company confirmed that the games will be coming out in late 2022. This means we probably won't see the games' release until August at the earliest. Pokemon Scarlet and Violet will come out on the Nintendo switch and only the Nintendo switch.
2. Splatoon 3 (Game price 59.99)
The Cover art for Splatoon 3
Photo By Nintendo.com
What is the Game About?
According to Nintendogames.com, Whether you're a squid or a kid (or both!), get ready for the next fantastic entry in the hit Splatoon series! Originating on the WiiU, Splatoon was a hit for the struggling console. It was a rare game for Nintendo, being a mostly online-focused third-person shooter, but was given a unique coat of ink. Rather than your normal soldiers fighting it out with guns, Nintendo flipped the concept into something far more colorful and friendly by pitting two teams of squid kids against each other with ink-based weapons. A sequel came early in the Switch's life cycle, and was an all-around improvement on the first game, adding more weapons, maps, and even a single-player mode.
When does the game come out? And what system does the game come out on?
According to Nintendogames.com, Splatoon 3 has been known about for a while, but the latest update we got on the game's release only narrowed down the window to summer 2022. However, in an official Tweet from Nintendo of Europe, they dropped the full release date as being September 9, 2022. Splatoon 3 will be a Nintendo Switch exclusive. Nintendo has never shared its first-party games with other platforms, or even PC, so this one will be no different.
3. Marvel's Spider-Man 2(Game Price 59.99)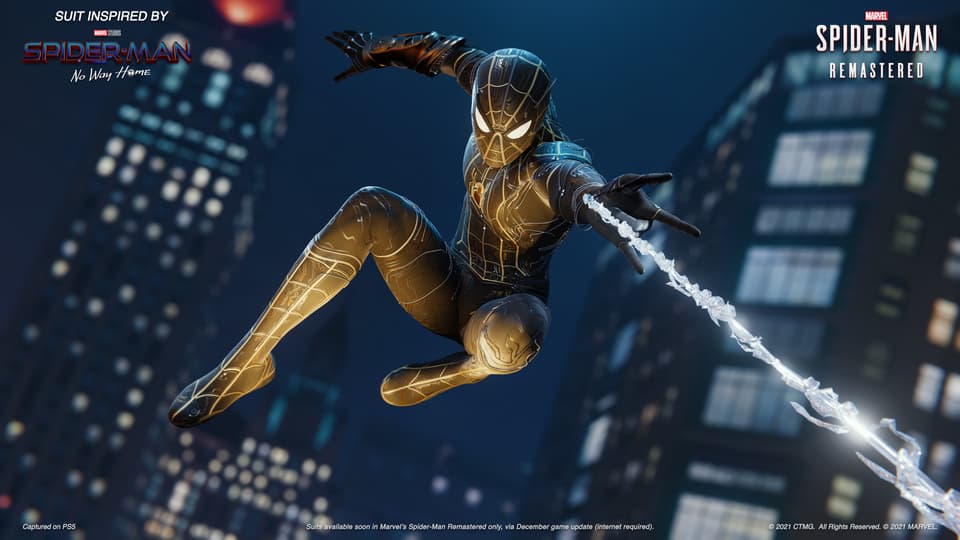 One of the new spiderman suits in the new spiderman game. It was inspired by the black and gold suit in Spider-Man No Way Home. Photo by Marvel.com
What's the game about?
According to marvelgames.com, So far, we have a brief trailer that confirms that in Marvel's Spider-Man 2, Miles Morales and Peter Parker will make an appearance in what's being described as a "darker" game than the original. Marvel said(opens in new tab)  that fans can expect "new abilities, new costumes and, of course, new villains", with one of these villains presumably being Venom, who makes a pretty intimidating appearance in the trailer.
When does the game come out? And what system does the game come out on 
marvelgames.com, Unlike previous releases in the series which came to PS4, Marvel's Spider-Man 2 is billed as a PS5 exclusive. Revealed as in development in late 2021, the game currently has a pretty wide release window of 2023, but hopefully, we'll get some solid details and a more firm release date will be revealed over the next year.
4. Multiversus (Game price Free)
The Current Roster of Multiverses. (More characters will be added later)
Photo By Dexerto.com
What's the game about
According to Multiversus.com, If you've ever wanted to know who would win in a fight between Shaggy from Scooby-Doo and Finn The Human from Adventure Time, or if Arya Stark is a more proficient assassin than Harley Quinn, then you'll soon be able to put those questions to the test in the heat of battle. MultiVersus is a platform fighter that lets you team up with or against your friends using some of the world's most iconic characters including Batman, Shaggy, Superman, Bugs Bunny & more. The game takes inspiration from Super Smash Bros And BrawlHalla.
When does the game come out? And what system  does the game come out on 
According to Multiversus.com, Currently, there is a MultiVersus closed beta running, which is due to conclude at the end of May 2022. That's restricted just to players who have received an invite, but the good news for everyone else is that they don't have much longer to wait, as the MultiVersus release window has been set for July 2022. We don't have an exact date within that month yet, but we do know that's when the open beta launches, meaning that anyone will be able to download and play the game. Much like Fortnite, it's likely that MultiVersus will remain in open beta for a while before graduating to a full release.
As well as being available on PC via Steam, PS5, and Xbox Series XS, MultiVersus is on PS4 and Xbox One as well, opening up more options for players to get involved in the fight. What's more, MultiVersus will have full cross-play support to allow battles with friends across different systems, and cross-progression is available so you can move between platforms while maintaining the overall progress you've made on your account.
5. Gotham Knights (Game price 59.99)
The Playable Characters  in Gotham knights  (Nightwing, Robin, Batgirl, and Redhood.) Photo By GothamKnightsGame.com
What is the game about?
According to GothamKnightsGame.com, Gotham Knights is the next big game from WB Games Montreal, the studio behind Batman: Arkham Origins. Batman isn't a part of this Batman-inspired game, however, but players will get a chance to play as one of four major DC heroes: Batgirl, Robin, Nightwing, and Red Hood. The eponymous Gotham Knights have been summoned to take care of two nefarious groups the Court of Owls and the Talons.
When does the game come out? And what system does the game come out with?
According to GothamKnightsGame.com,  After delaying the game to an ambiguous "2022" window last year, in order to "deliver the best possible experience for players", Warner Bros. revealed the Gotham Knights release date as October 25, 2022. The game is said to be released on PS5 Xbox Series X/S and Pc.
SOURCES Nintendo.com,  Marvelgames.com, GothamKnightsgame.com, Multiversus.com,