History of the LA dodgers
According to sportsteamhistory.com, The La Dodgers have been a staple of Los Angeles for the past 64 years, but they were originally from Brooklyn New York. They were founded by Charlie Byrne in 1883 and they stayed in Brooklyn for about 75 years until they moved to California due to financial problems. And that's hows the Brooklyn Trolley Dodgers came to LA and changed their name to The Los Angeles Dodgers in 1958.
Famous players
Fernando posing before a game. Photo by History.com
On another website, MLB.com,  It says, Fernando Valenzuela Nicknamed "El Toro" (the bull) or, jokingly, "El Gordo" (the big one), Fernando Valenzuela had a legendary season in 1981, when he then won the NL Cy Young Award and the NL Rookie of the Year Award, the only time an MLB player has achieved such a feat. Generating what came to be known as Fernandomania, at least in Los Angeles, Valenzuela helped the Dodgers win the NL pennant that year, as well as the World Series. Generally referred to as Fernando, his best pitch was the screwball or "screwgee," an off-speed offering that confounded many hitters. Interestingly, Fernando threw a no-hitter for Big Blue in 1990. And, definitely a good hitter for a pitcher, Fernando also won two Silver Slugger awards, while playing for 11 seasons as a Dodger.
2. Orel Hershiser
Orel Hershiser During one of his scoreless innings. Photo By: Truebluela.com
On the same website, MLB.com, It states,  Orel Hershiser, nicknamed "the Bulldog" by manager Tommy Lasorda, in spite of having a slender frame and a mild manner, attained multiple achievements in a single season that most MLB pitchers could only dream about. During the 1988 season, Hershiser compiled a record of 23 and 8, threw eight shutouts and 15 complete games; he also pitched 59 straight scoreless innings, breaking Don Drysdale's MLB record. (He also won a Gold Glove award.)
Not surprisingly, Hershiser easily won the Cy Young Award that year and then led the Dodgers to the playoffs, becoming the NL Championship Series MVP, and then to the World Series, which the Dodgers won, garnering the World Series MVP Award as well. Hershiser also had many other fine seasons with Dodger Blue over 13 years.
3. Mike Piazza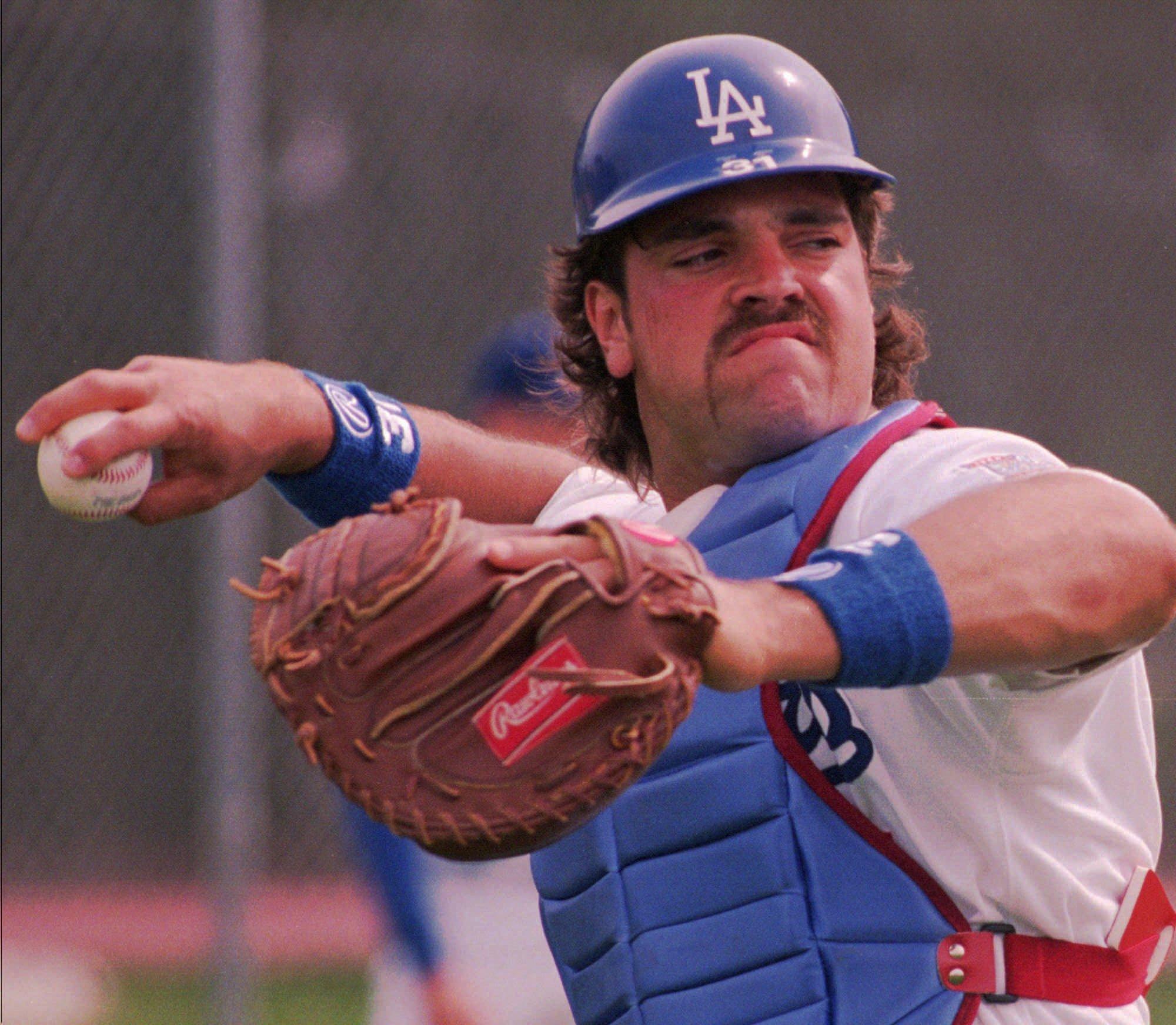 Mike Piazza warming up before a game. Photo by Sfgate.com
It also says on, MLB.com, Not since the days of Roy Campanella in Brooklyn had the Dodgers seen such an awesome, power-hitting catcher. In fact, Piazza not only hit for power, but he also hit for a high batting average. In 1993, Piazza hit 35 home runs, knocked in 112 runs (RBIs), and batted .318, enough production to win the NL Rookie of the Year Award. And Piazza continued putting up Triple Crown numbers for the Dodgers, particularly in 1997, when he hit 40 home runs, knocked in 124 runs, and batted .362, nearly winning the batting title. Moreover, having hit more home runs than any catcher in MLB history (396, 427 in total), as well as achieving other impressive batting achievements, Piazza was elected to the Hall of Fame in 2016.
4. Dusty Baker
<—– Dusty Baker batting during the National League Championship Series. Photo by Dodgersway.com 
according to MLB.com, Traded from the Atlanta Braves to the LA Dodgers before the 1976 season, Dusty Baker, after having knee trouble that year, eventually became a fixture in left field, winning a two Silver Slugger awards and one Gold Glove and generally batting third in the order, where the best overall hitter usually resides. Moreover, in 1977, Baker was one of four Dodgers who hit over 30 home runs that season.
Showing an excellent combination of hitting for average, power, speed, and defense, Baker helped the Dodgers win the National League pennant in both 1977 and 1978, as well as the pennant and the World Series in 1981. Baker played eight seasons for the Boys in Blue.
5. Steve Garvey
Steve Garvey getting ready to go up to bat.  Photo by ECSM.com
According to MLB.com,  Steve Garvey was Nicknamed "Mr. Clean," because of the straight image he showed while playing baseball, Steve Garvey had many accomplishments while playing for Dodger Blue. He won the National League MVP Award in 1974; he was selected to the All-Star team eight times; he won four Gold Glove awards; he was selected as the MVP of the NL Championship Series in 1978; he played in 14 seasons for the Dodgers; and he established a new NL record by playing in 1,207 straight games from Sept. 3, 1975, to July 29, 1983. (The streak was stopped when Garvey broke his thumb while playing for the San Diego Padres.) It is the fourth-longest such record in Major League history!
Jackie Robinson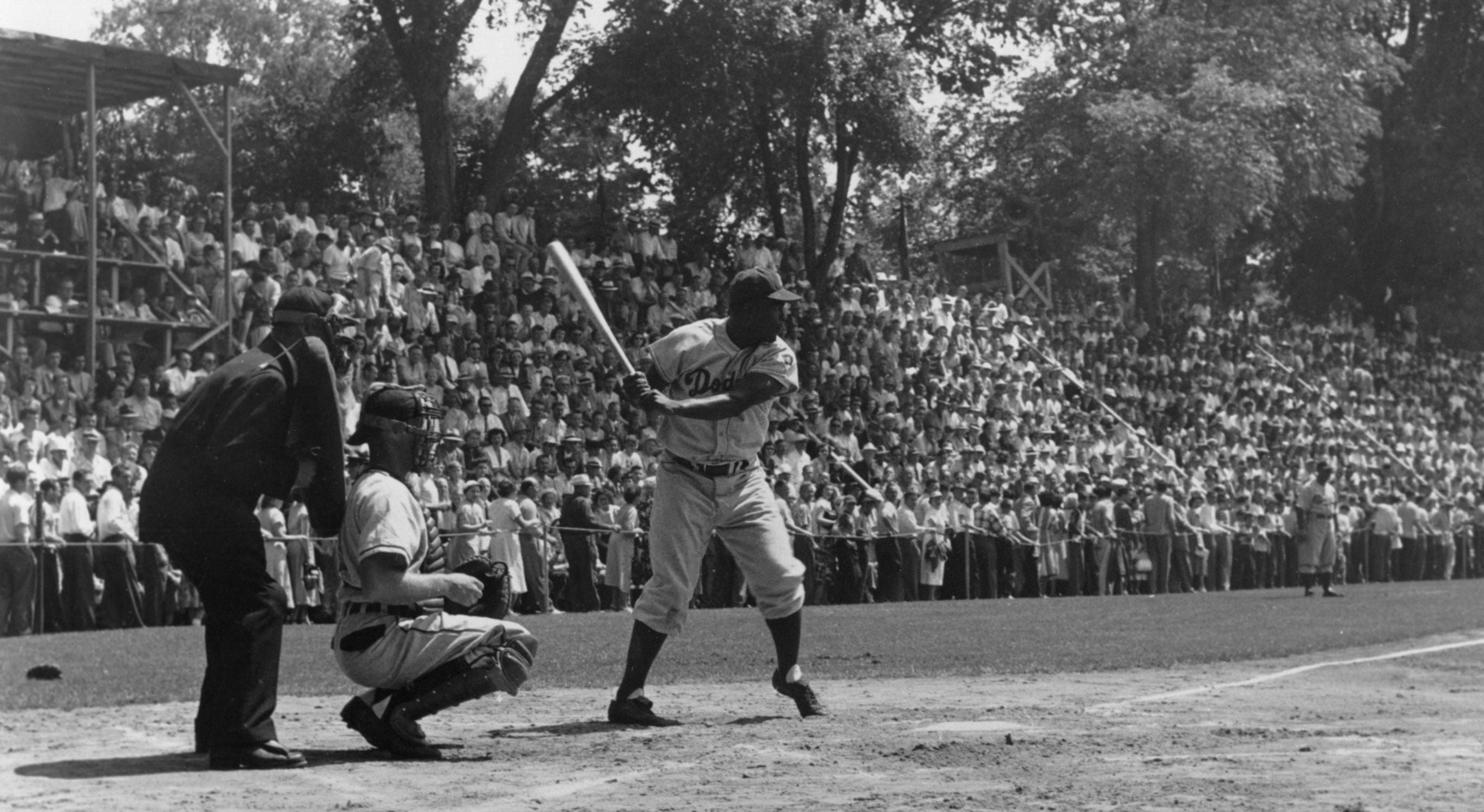 Jackie Robinson playing his first-ever match. Photo by baseballhall.org
According to MLB.com,  Jackie Robinson is one of the dodgers' most famous baseball players not only was he an amazing baseball player/Athlete but he was also one of the first African American Major League Baseball players! He first started playing for the MLB on April, 15th, 1947  for the Brooklyn Dodger, and his number was 42. The first team Jackie went against in his first match was the Boston Braves, in front of more than 25,000 spectators! at Ebbets Field in Brooklyn, New York. He later died on October 24, 1972. But even after his death he still leads the way for African American people being able to join MLB teams. He even has his own day which is named after him its on April 15
"I don't let my mouth say nothin' my head can't stand." Quote by Jackie Robinson. Found on Goalcast.com
What I think Jackie Robinson is Saying is that if he says something he's gonna follow through with it.
Ballparks 
According to MLB.com,  The current Dodger stadium (1962) opened on April 10, 1962, and is located at 1000 Vin Scully Avenue, Los Angeles, Califonia.
Walter O'Malley and architect Emil Praeger set the stage for baseball's most popular and beautiful showplace when they began designing the Dodgers' new home after moving to Los Angeles in 1958. Since 1962, the beauty of Dodger Stadium has awed spectators with a breath-taking view of downtown Los Angeles to the south; green, tree-lined Elysian hills to the north and east; and the San Gabriel Mountains beyond. The 56,000-seat Dodger Stadium has parking for 16,000 automobiles on 21 terraced lots adjacent to the same elevations as the six different seating levels.
At the gates, more than 118 million fans have watched Dodger games at Dodger Stadium over 43 years, an average of more than 2.7 million fans per season. Dodger fans have witnessed 3,338 regular-season games at Dodger Stadium, including a 1,948-1,471 (.584) record posted by the Dodgers. In 1978, Dodger Stadium became the first ballpark to host more than three million fans in a season when the Dodgers drew 3,347,845 in attendance.

LA Dodgers Current ballpark. By Eatour.com
According to MLB.com, The first Ever Brooklyn  Dodger Ballpark was   Between Nostrand Ave and Marcy Ave at Halsey St. in the Bedford-Stuyvesant area of Brooklyn, NY. Amateur baseball flourished in Brooklyn as early as the 1840s. Games were played near Carol Park and later at Union Grounds in the Williamsburg area. In 1862, Reuben Decker built a ballpark at the Capitoline Skating Lake. It followed the Union Grounds as only the second fenced-in ballpark. The Brooklyn Atlantics called Capitoline home until the area was developed and a street replaced the field in 1879. But before it was a street it was more of flat open ground where the first games from 1862 to 1878
Brooklyn Dodger first Ballpark. By Retroseasons.com
Sources:
https://www.mlb.com/dodgers/history    https://sportsteamhistory.com/los-angeles-dodgers